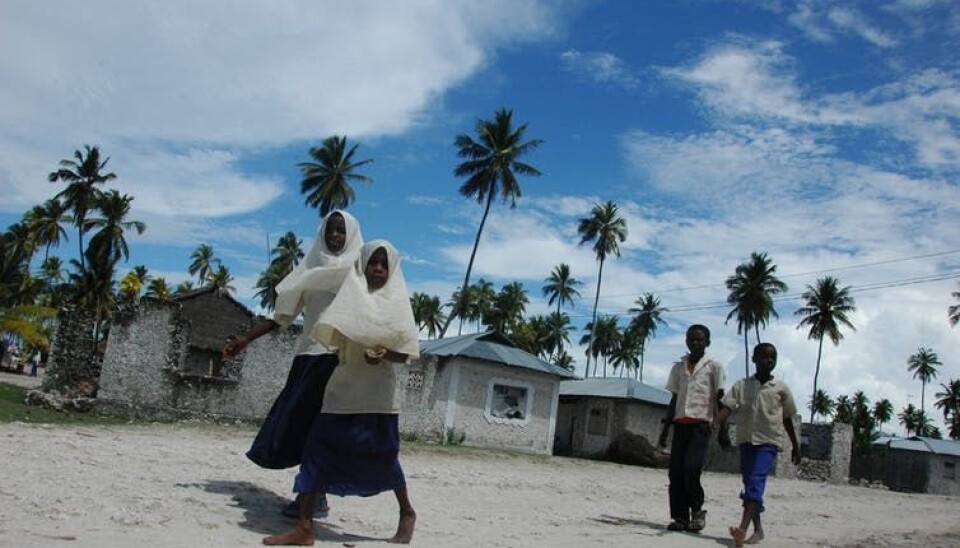 Jobs and paid-for schooling can keep Tanzanian girls from early marriages
Women living in the poorest parts of any city need policies that create employment opportunities and offer girls an alternative choice to marriage.
Sub-Saharan Africa is home to four of the top five countries in early marriage – or child marriage – rates: Niger, Chad, Mali and Central African Republic. Despite decades of campaigning to restrict or forbid early marriage, little has changed for the world's poorest women. The percentage of these particularly poor women who were in a conjugal union by the age of 18 has remained unchanged for the continent as a whole since 1990 – and has actually risen in East Africa.
Early marriage appears to have absolutely no benefits. It accelerates population growth and decreases women's participation in the labour force. It also reduces a country's overall national earnings. Girls who marry before they turn 18 are at greater risk of childbirth-related complications that are the leading cause of death worldwide for girls aged 15 to 19.
But what's not often reported in the media is that some girls themselves want to marry early. I discovered this when I conducted interviews with 171 people, most of them Muslim women, in two low-income neighbourhoods in Tanzania's capital city Dar es Salaam.
The poorest girls and women see themselves as having few possibilities to earn an income for themselves. Even before they marry, girls from poor families must often resort to premarital sexual relations with their boyfriends who provide food and money. For many low-income Tanzanians, it's also normal to start thinking about marriage at roughly age 15. Established cultural expectations in many ethnic groups suggest that adulthood begins at age 15 or 16.
Yet even those girls and parents who would like to delay marriage often have little choice because of poverty and the fact that women in slum neighbourhoods have fewer opportunities to earn an income than men do. Creating more opportunities for young women and girls to work and earn money is one possible solution to early marriages. Subsidising secondary education to keep poorer girls in school for longer is another.
Read More: Same-sex marriages are on the rise in Norway
Choices
One factor that pushes some girls into early marriage is the hidden costs associated with education. Many Tanzanian girls drop out after primary school. Primary education in the country is mandatory by law and is nominally free of charge. But numerous hidden costs exist: additional fees, uniforms, books and transportation.
Only a small percentage of students achieve good enough exam scores to be accepted to low-priced government secondary schools. This forces the rest into private secondary schools, which are usually too expensive for the poorest urban residents. Parents recognise the value of education and want to school their daughters. They just can't afford to do so.
Sometimes the girls themselves wish to discontinue their studies. They perceive the transactional intimacy provided through marriage as offering a more secure future than an expensive secondary education.
After age 15, girls are expected to be self-sufficient to gain respect in the eyes of others. Marriage is viewed as a more likely way to gain that respect than through years of education with its high costs and uncertain rewards.
The people I interviewed felt that premarital sex was seen as shameful in their neighbourhoods. Relying on a husband or fiancé for money, though, is a respectable means of displaying independence.
When girls drop out of school, cannot find work and don't have enough starting capital to sell food or other goods in their neighbourhoods, early marriage is often the only culturally approved way to be a productive adult. It can be seen as a sign of "success" for a girl: it means she has a good tabia; a good character.
Read more: Out on a limb after forced marriage
Employment could help
Cultural traditions are a popular scapegoat for policymakers. But these should not be blamed for what are perceived elsewhere in the world as "backward" practices. Trying to eradicate cultural attitudes when these are grounded in economic and educational realities does little to change people's behaviour.
Women living in the poorest parts of any city need policies that create employment opportunities. This would offer girls who might otherwise choose early marriage other choices.
Tanzania was a leader in the 1990s in Africa when it came to inclusive policies towards informal and street traders. But a rapidly growing population and competition among traders means many women cannot afford the licenses and permits needed to set up a business in a busy area with many customers. They may also not have sufficient capital or may need to stay close to home to care for family members.
Ultra-low interest micro loan programmes serving the poorest areas of the city could be organised for women who have no option but to obtain income from the smallest and least visible vending niches in the city.
Read More: How to get young adults into jobs
Making education more attractive
Another option, or one that could run in parallel with improved access to work opportunities, could centre on education. Tanzania could consider employment-oriented education policies and subsidising secondary education for the poorest students. This would provide motivation for girls and their families to continue girls' studies. These are issues over which poor families themselves have little control: structural change needs to come from above.

As long as girls and their families see the most viable – and morally acceptable – option for a girl's economic survival to be early marriage with a male partner whose earning opportunities are greater than hers, the practice of early marriage is unlikely to decline among the urban poor.
This article was originally published on The Conversation. Read the original article.
Laura Stark received funding from the Academy of Finland for this research.
Related content