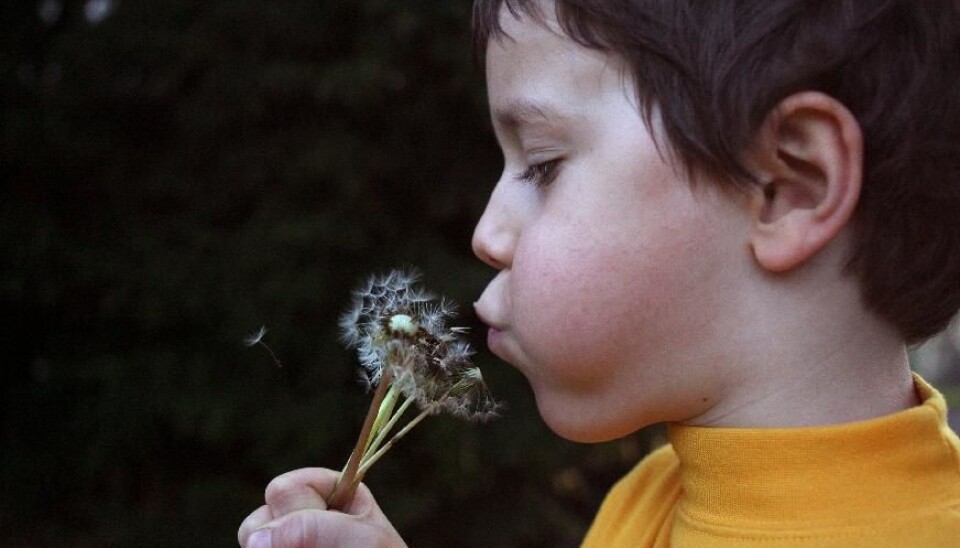 Allergies can be discovered soon after birth
Babies show a predisposition for developing allergies later in life even at the infant stage. The discovery could pave the way for better prevention.
As infants, all children have a slight tendency to develop allergies such as asthma, eczema or hay fever.
Danish researchers have found that babies begin to show signs of developing one on more of these ailments as early as a month after birth.
Allergies begin before traces become visible
Researchers from the Danish ChildAstma Centre at Gentofte Hospital in Copenhagen have discovered that vulnerable infants have elevated levels of a special protein long before we are currently able to discover traces of an ailment.
"Together with other studies we have done, this shows that the ailments begin to develop early in life and long before any symptoms become apparent. The patient is a patient, so to speak, even before he or she has been diagnosed," says consultant Hans Bisgaard, head of the Danish ChildAsthma Centre, and professor at the Faculty of Health Sciences at Copenhagen University.
Protein reveals a particular risk
Dr Bisgaard and his colleagues have discovered that children who later develop afflictions such as hay fever and eczema had elevated levels of the protein u-EPX as infants.
U-EPX is a part of the white blood corpuscles (eosinophil granulocytes), which fight infection in the body.
The researchers are still not sure why the body elevates production of u-EPX, although the discovery – made from urine samples – does pave the way for a very early discovery of children in the risk zone for developing allergies, asthma, eczema or hay fever. This can enable doctors keep a closer eye on vulnerable children and perhaps even to prevent their ailments.
"Our findings could make it possible to prepare individual prevention or treatment, although we still do not know how to arrests the development of these ailments," Bisgaard explains.
Allergy measured on unique group of people
The Danish ChildAstma Centre is Europe's leading unit in the research into asthma in childhood. The researchers retrieve their data from a unique sample of 411 children of mothers with asthma known as COPSAC – Copenhagen Studies on Asthma in Childhood.
The so-called cohort has been followed, interviewed and tested on an on-going basis since their children were born ten years ago, and researchers publish articles at regular intervals, presenting new knowledge about allergies and asthma and other afflictions.
The latest study was published in the American Journal of Respiratory and Critical Care Medicine.
Read the article in Danish at videnskab.dk
Scientific links
External links
Related content