Researchers' Zone: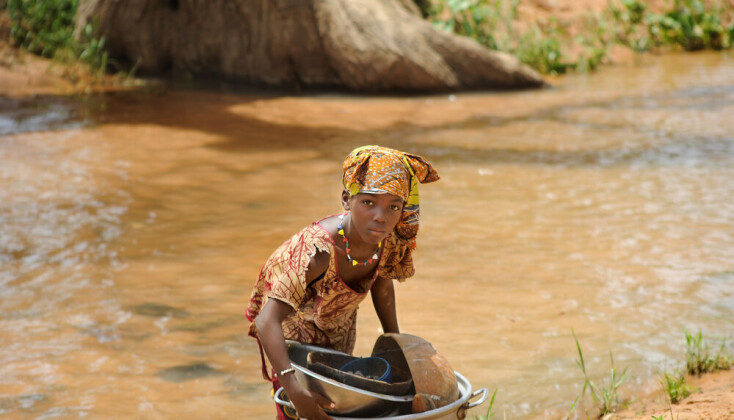 Genital Parasite Infection: The Untold Story of the Silent Burden Millions of Women Bear
Although they are the root cause of numerous genital and fertility health difficulties in women, parasite-caused diseases like FGS are largely unknown to the general public and health professionals, alike.
Being a researcher affords me the opportunity to visit remote hard-to-reach communities in Anambra State, Nigeria. There, I have come across over 100 cases of various types of Neglected Tropical Diseases.
Nothing, however, could have prepared me for the encounter with a 12-year-old girl who was diagnosed with Female Genital Schistosomiasis (FGS) during the course of our research.
At first, I was drawn to her by her innocence and reserved demeanor, but when we had established her diagnosis, I was impressed by her courage and the way she bravely carried the weight of a fatal illness which could have stolen everything from her, including her quality of life.
FGS is a waterborne Neglected Tropical Disease (NTD) of poverty that affects 56 million women and girls, and causes infertility and accelerated exposure to STDs including HIV and Human Papillomavirus (HPV).
My life was forever altered by that one encounter, and I have since made it my mission to actively combat FGS.
In this article, I'll go over what we now know about the disease, its causes, and what we can do to address it before it negatively impacts the health of so many millions of people.
Easy to treat – so why are there so many cases?
Schistosomiasis, also known as snail fever, is a parasite infection that can be caused by three different flatworms that live in freshwater.
The larva enters the body through the skin and moves deeper into the blood vessels, where it mates and lays its eggs. These eggs damage the reproductive organs, which results in FGS.
It is a relatively easy medical condition to treat. The drug of choice is praziquantel and it has very few side effects. Nevertheless, we continue to see a lot of untreated cases.
Our study revealed that many young schoolgirls (5–14 years old) who were confirmed to have Schistosoma haematobium infection — the parasite that causes urinary schistosomiasis and can cause complications like FGS — did not participate in or were not aware of the school-based Mass Drug Administration (MDA) for praziquantel in their communities. Additionally, there are a lot of children who are not in school in these communities.
That is unfortunate because another ugly side to FGS is that even when these small monsters are killed with praziquantel, the harm done by the sharp-spined eggs that these female worms lay could live in you for the rest of your days.
Vaginal bleeding and painful urination might result from the eggs' effects on the body damaging the vaginal tissues.
Most significantly, the embedded eggs also trigger an inflammatory immune response and left untreated FGS can cause infertility, abortion, ectopic pregnancy, genital ulcers and increased risk of HIV and HPV infections.
These barriers cause the parasite to thrive
A certain way to prevent infection is to stay clear of infected water.
But the community depends on streams, ponds, and lakes that are contaminated with the parasite's transmission stages for its water supply, rice farming activities, for religious and cultural rituals and celebrations.
Due to their remote location and lack of essential services like a water supply and a functional toilet system, open defecation is a frequent practice.
The fact that parasite eggs are spread through feces and urine is thus, one of the factors contributing to the contamination of water bodies.
Since most community members worship water deities and frequently go to the water bodies for sacrifices and purification, cultural belief presents a significant barrier to understanding the problem linked with FGS. Poverty and illiteracy are further obstacles to educating the local population about the problem.
Even more so, there are societal taboos that keep young women from talking about issues with their sexual health.
These taboos include religious and cultural beliefs that make any conversations about sex a banned topic for young adults and adolescents.
This conservative culture often affects relationships with healthcare providers, as there is a perceived lack of confidentiality in healthcare services and healthcare providers.
Foreign Travelers also infected
Not only locals run the risk of contracting an infection. I recently came into contact with a foreign traveler who was swimming in one of Africa's infected water bodies.
She wasn't diagnosed with FGS until she got back to her home base and after multiple tests to figure out what was wrong with her reproductive system.
If such a contaminated stream was treated, this might have been prevented.
One of the key measures to guarantee the disease's elimination is vector management of the snail host, according to the WHO treatment roadmap. Before the parasite's larval stage where it infects humans, there is an intermediate stage where the parasite infects a specific type of snail (read about the entire life cycle of the parasites in the box below).
However, it should be emphasized that transmission is an irregular process, and even one untreated infected person can contaminate a body of water and turn it into a high-risk transmission zone.
There is a need for practical solutions that will involve the affected communities (especially the victims). This could include building toilet facilities away from water bodies and maintained by community members themselves.
Additionally, available media such as radio, print, and even local announcements in churches, schools, markets, and village squares, can be used to educate the masses on practical safety measures like vigorous towel drying after visiting the waterbodies.
Mass administration of medicines can also be carried out at a time that coincides with certain cultural practices.
Finally, trained professionals, including members of the community can help to treat the masses and at the same time dispel myths concerning the disease. Here, the power of education is the most practical tool to effect changes in behavior.
This will help to build mutual trust because fear of internalized stigmatization and discrimination prevents teenagers and young women from going to seek sexual reproductive health care at the health facility.
This is partially due to that the symptoms of FGS are similar to those of sexually transmitted infections.
How can we solve the problem?
Besides stigma, FGS can also lead to social exclusion and marital problems because of infertility and depression.
To lessen the impact of FGS on the victims' mental health, health facilities could include investigating post-treatments for the chronic components of the disease. But also changing victims' behavior, especially with regard to open defecation (urination), and raising awareness through health education.
Boreholes and tap water should be made available as a sustainable alternative safe water supply to augment these. This will assist in stopping the spread of these parasites' infectious stages and preventing re-infection.
For a one-stop approach, it is also encouraged to combine FGS with services for HIV, HPV, cervical cancer, and other sex-linked disorders.
This is because patients who suffer from the disease are more susceptible to virus infection since the condition results in open sores, inflammation, and exposure to blood. For instance, the risk of HIV infection is up to three times higher in women and girls with FGS.
With the help of research partnerships and advocacy, we are currently striving to determine the disease's burden in Africa and raise awareness at local, societal, and global levels.
I sincerely hope that this burden, which women are compelled to carry in silence, will be lifted, allowing girls like my first patient to receive the proper medical attention and care. Promoting equality and equity in the delivery of health services is the ultimate objective.
This article was originally published on our danish sistersite, Forskerzonen.
List of references: