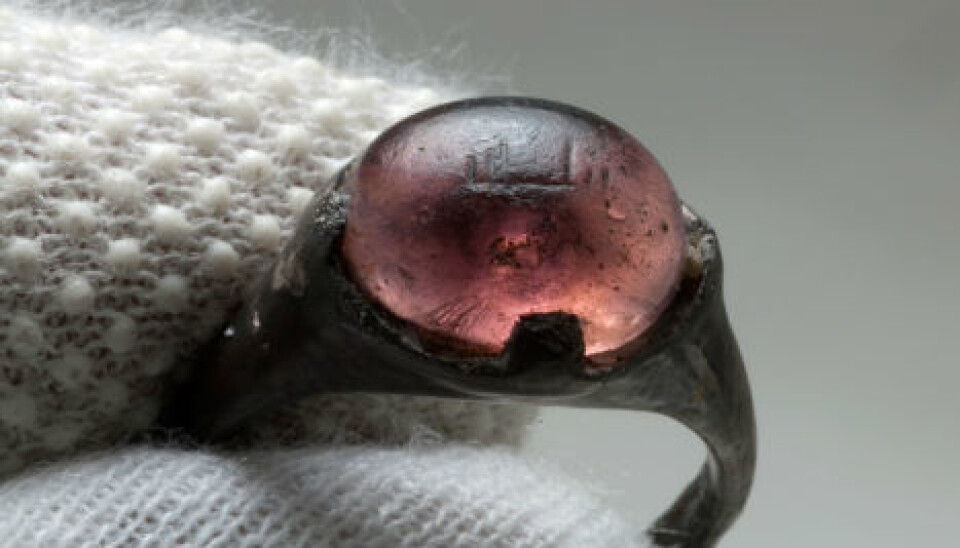 Ancient ring brings Vikings and Islamic civilizations closer together
Ring with Arabic inscriptions found in Swedish Viking grave.
A glass ring found in a Viking grave belonging to a Swedish woman offers proof that Vikings were in direct contact with the ancient Islamic civilizations.
The ring, which is decorated with glass and not amethyst as previously assumed, has an inscription that reads "to Allah" or "for Allah" in Arabic, writes ScienceNews.
According to the archeologists behind the discovery, it's a well-established fact that Scandinavians traded for glass with people from Egypt and Mesopotamia as far back as 3,400 years ago -- so it's not that unlikely to think that seafaring Vikings might've taken the trip down there themselves and traded with the Islamic merchants in the region, says the researchers from Stockholm University.
The researchers used a scanning electron microscope to determine which material the ring was made of and to read the inscription.
Proves trade between Vikings and Muslims
The researchers write in their article, which was recently published in the journal Scannin, that the ring could constitute proof of direct interactions between Vikings and the Islamic civilisations.
"Being the only ring with an Arabic inscription found at a Scandinavian archaeological site, it is a unique object among Swedish Viking Age material," they write.
According to Jeanette Varberg, director of Moesgaard Museum in Denmark, it's a very exciting discovery. However, she says she's not surprised that there were direct trade routes connecting ancient Scandinavia with the East.
"It underlines that Birka has been the gate to the East," says Varberg to ScienceNordic. "It's clear that there used to be trade routes across the Mediterranean."
-----------
Read the original article in Danish on Videnskab.dk
Translated by: Kristian Secher
Scientific links
Related content