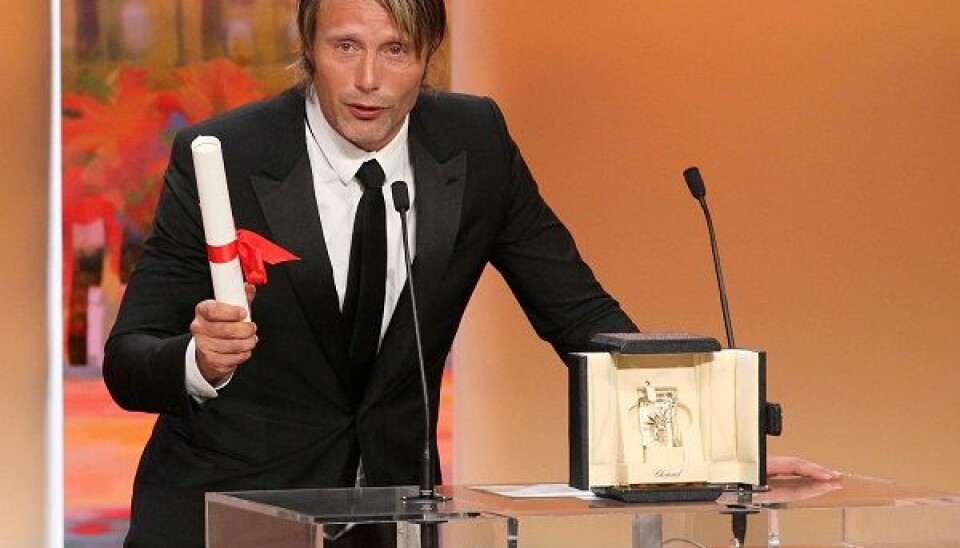 Cannes nominations rarely lead to local success
A Danish movie is nominated in Cannes for the third year running. New research shows that a nomination at one of the major European film festivals significantly boosts ticket sales in overseas cinemas. Festival hits are, however, far from guaranteed to be successful in Denmark.
A Danish newspaper recently asked its readers: "Would you pay €85 to see a movie in the cinema?"
It has become a common feature in Danish culture journalism to calculate what the ticket prices for the various new Danish cinema movies would have been had they not received public subsidies.
Many argue that state subsidies predominantly go to independent movies with success at the international film festivals, but which no Dane would ever watch without getting paid for doing so.
Nevertheless, it appears to make good economic sense to invest in the international film festivals.
A new study shows that success at the festivals usually lead to success at the box office – though only rarely in Danish cinemas, which are the ones featured in the newspapers' calculations.
Nominations bring people to the cinema
These movies are nominated for this year's Cannes Film Festival:
- Steven Soderbergh: Behind the Candelabra
- Alex van Warmerdam: Borgman
- Mahamat-Saleh Haroun: Grigris
- Amat Escalante: Heli
- Ethan og Joel Coen: Inside Llewyn Davis
- François Ozon: Jeune & Jolie
- Arnaud Desplechin: Jimmy P. (Psychotherapy of a Planins Indian)
- Paolo Sorrentino: La Grande Bellezza
- Roman Polanski: La Vénus à la Fourrure
- Abdellatif Kechiche: La Vie d'Adèle - chapitre 1 & 2
- Asghar Farhadi: Le Passé
- Arnaud des Pallières: Michael Kohlhaas
- Alexander Payne: Nebraska
- Nicolas Winding Refn: Only God Forgives
- Jim Jarmusch: Only Lovers Left Alive
- Hirokazu Kore-eda: Soshite Chichi Ni Naru
- James Gray: The Immigrant
- Zhanke Jia: Tian Zhu Ding
- Valeria Bruni Tedeschi: Un Chateau in Italy
- Takashi Miike: Wara no Tate
The study, which has yet to be published in its entirety, compared how many tickets the 607 movies that had been nominated at one of Europe's three most prestigious film festivals in Cannes, Berlin and Venice have sold in the EU countries in the period 1996-2005 with an equivalent number of randomly selected movies that had not been nominated at the three festivals.
The conclusion is clear:
"On average, movies that have been nominated at one of the three festivals sell 1.63 million more tickets in the EU countries alone than those that have not been nominated at the festivals," says Professor Jesper Strandgaard, of the Copenhagen Business School, who carried out the study together with international colleagues.
"If you also manage to win an award for the best movie, best instructor or best actor or actress in a leading role, you can expect to sell an additional 1.8 million tickets compared to the movies that only received a nomination."
Danish Darlings are rarely popular abroad
The apparent trend of celebrated festival successes doing poorly at the box office can, according to Strandgaard, be tied in with the great differences in how commercially successful Danish movies are at home and abroad.
The professor has previously conducted studies comparing the most-watched Danish movies in Denmark and abroad, respectively.
"In fact, only two movies are featured in the top 10, and only 'Italian for beginners' has had real success both at home and abroad," he says.
With more than 800,000 tickets sold, it was the second-most watched movie in Danish cinemas in the period 1995-2007, but at the same time it also sold almost three million tickets outside of Denmark. A great share of this success can probably be put down to the fact that the movie was nominated at the festival in Berlin and won a Silver Bear."
Local blockbusters are rarely invited
According to Louise Vesth of Danish film company Zentropa, which boasts names such as Lars von Trier, there is one type of movie for which the festivals are particularly valuable:
"The European films that have an artistic impetus but a relatively small launch budget benefit greatly from being featured at a festival because it generates publicity and acts as a showcase for international customers," she says.
"The festivals rarely invite local blockbusters such as Danish comedies, family films or genre films. These may well have a very large home following, but only very rarely do they make it beyond the national borders. So the films we focus on for the festivals are those that have international potential, but which would of course also have the potential for local success."
Lars von Trier – an example of success abroad
A good example of the sometimes lacking correlation between international and local cinema success is Lars von Trier:
"Trier does not sell all that many tickets in Denmark, but he is really successful overseas," says Strandgaard.
"Our figures show that 'Dancer in the Dark' and 'Breaking the Waves' were the most watched movies in overseas cinemas in the period 1996-2005, selling 4.3 and 3.8 million tickets, respectively.
But in Danish cinemas, the two movies only sold between 200,000 and 300,000 tickets and did not even make it to the top 10 list of most-watched movies."
--------------------------
Read the Danish version of this article at videnskab.dk
Translated by: Dann Vinther
Scientific links
External links
Related content