Researchers' Zone: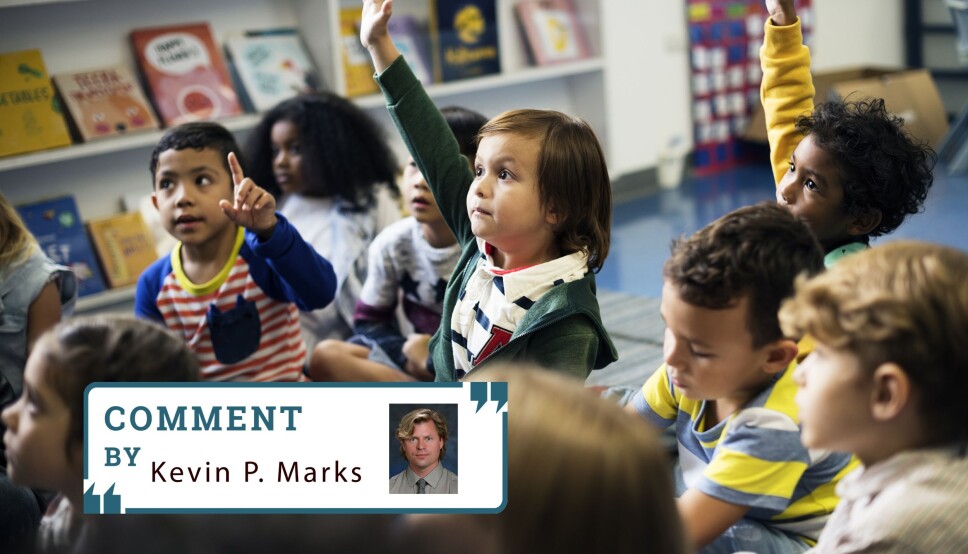 How can Denmark better detect children 0-5 years with developmental and behavioral problems?
COMMENT: The first years of life are crucial for the rest of life. Still, too many infants and toddlers are largely not periodically screened to measure their communication, motor, cognitive, social and emotional skills in Denmark, and therefore you might not be swiftly identifying the children who deserve extra help, writes an American pediatrician.
Parents rejoice in big and small milestones in their children's lives such as the very first smile and first words. However, up to one in every four children is at risk of having a developmental delay or persistent behavioral problem, which may be a sign of an underlying developmental disability or mental health disorder.
I am an American pediatrician who immigrated to Denmark with my Danish family in 2017. In the USA, I worked fulltime as a pediatrician for over 17 years. In Denmark, I have been working hard to learn the Danish language while publishing research articles with new colleagues in my spare time.
Going forward, I will become a PhD student at the University of Aarhus.
When you move to a new country and a new system, it is natural to compare your new surroundings with what you used to know. So, together with two colleagues, I made a systematic, scientific comparison between the Scandinavian and the American systems – I will return later to that.
In this article, I would like to share my perspective on how best to identify children aged 0-5 years who are at moderate or high risk of having developmental and behavioral problems.
The American developmental-behavioral screening and surveillance system has some elements that Denmark can learn from, so that children's physical, cognitive, emotional and social health can be improved. Similarly, the Scandinavian system has elements that the United States can learn from.
Questionnaires are very useful tools
Studies show that appropriate and swift action is needed when infants, toddlers or preschoolers are identified as being at risk for future problems.
This can be of great importance in the long term – for example, by reducing the severity of developmental delays and behavioral problems in children, the need for special education support in school, the risk of smoking or substance abuse, juvenile delinquency, adult crime, poverty and unemployment.
Early identification and education programs for children 0-5 years are a high return investment for society.
Therefore, it is important that delayed or at-risk children are identified, referred for further assessment and treated appropriately, if needed. Routine screening increases the rates of early identification, early referral and linkage with early intervention services.
In the United States, parent-centered questionnaires are increasingly being used to screen and assess children's development and behavior. A new study among US pediatricians shows that their use of standardized questionnaires to chart children's development and behavior has tripled from 21 percent in 2002 to 63 percent in 2016.
'Broad-band' screening instruments can be used as a useful tool to monitor children's development in areas such as communication (understanding and expressing language), motor skills (big and fine muscle movements), cognition (problem-solving skills) and socio-emotional skills (behavior).
The use of the 'Ages & Stages Questionnaire' (ASQ) questionnaire has risen from a modest 9 percent in 2002 to a 48 percent in 2016. In 2020, there are approximately 24.5 million US children aged 0-5 years. This means that the parents of over 12 million American children have spoken to a doctor on an annual basis about their child's ASQ results.
The ASQ and the behavior-focused questionnaire, ASQ:Social-Emotional (ASQ:SE), for children from 0 to 6 years have been translated into Danish, Swedish and Norwegian, but in Scandinavia, they are infrequently used other than for research purposes.
How screening works in practice
When screening a child aged 0-6 years with a standardized questionnaire, one relies on the parents' concerns and observations of their child over time.
Parents answer 30 clear and well-normed questions (possible responses are 'yes', 'maybe' or 'not yet' - but not 'no') along with 6 to 9 'overall' questions.
The questions often encourage parents to play with their young child, when they don't immediately know the best answer.
VIDEO: In this video, Kevin Marks illustrates how the developmental and social-emotional screening tools ASQ-3 and ASQ:SE can be administered in a busy pediatric office setting:
US studies show that the ASQ and ASQ:SE need to be completed by parents before – not during or after – the parents enter the exam room with the child's doctor.
Many parents complete the online ASQ or ASQ:SE at home a week before meeting their doctor. Other parents fill out a paper ASQ or ASQ:SE about 15 minutes before the doctor's visit in the waiting room. The online process works the best.
US studies also show that established collaborations between physicians and other professional groups, such as mental health care providers, increase the chances of children being referred to early intervention services and other beneficial community programs.
Professional coordinators have also proven effective in ensuring that professionals share knowledge and ensure accurate measurement of children's developmental progress.
Screening works - also in Scandinavia
Together with two colleagues, I have examined and compared the different use of screening tools for children aged 0-5 years in the United States and the Scandinavian countries in a systematic literature review.
As these Western countries have different health and social services, a literature review can highlight the advantages and disadvantages of using the same screening tools in different systems.
In selected clinics around Oslo, Norway, the ASQ screening process was proven to increase parental satisfaction with children's health checks. Screening for Social-Emotional Problems (ASQ:SE) in the Västerbotten region of Sweden has revealed that the child's gender and parental custody arrangements are important factors to monitor.
For example, Swedish parents reported significantly more social-emotional problems in young boys than girls. And parents who did not live together reported more social-emotional problems among their children than those who lived together.
The ASQ:SE improved the early identification of behavioral problems in 3-year-old Swedish children before starting preschool, which means that a systematic preventative strategy could be initiated for higher risk children.
Regular screening can spot problems early
Let us return to the United States. The American Academy of Pediatrics (AAP) recommends that doctors routinely screen children for developmental and behavioral problems at ages 9, 18, 24 and 30 months.
Many US pediatricians also assess children's social and emotional status at four years with a standardized, parent-centered screening questionnaire. The US screening process is combined with providing positive parenting advice, early literacy counseling and information about play-based learning activities.
Children are often given a free, age-appropriate book – and parents are generally discouraged from using screens on phones, computers or televisions. These activities make the screening process more safe and effective.
In the US, depending on the children's age and the questionnaire used, the ASQ and ASQ:SE identify approximately 8 to 20 percent of children as 'moderate risk' or 'high risk' of developmental or behavioral problems and are thereby referred to 'early intervention' and other beneficial community programs.
A specific diagnosis is not necessary for doctors to refer an at-risk child to an early intervention or community program.
Regular screening increases parents' and professional's knowledge of children's developmental milestones and can be a crucial tool for addressing problems early, rather than just 'waiting and seeing' over time.
Regular screening may help doctors to better identify concerns, and thus give rise to further studies that can shed light on the causes of the evolving problem.
For example, developmental delays can be associated with clinically relevant conditions such as iron deficiency, hearing impairment, autism, metabolic disorders, genetic disorders, sleep disorders or other causes of impaired functioning.
Too little and too late screening in Denmark
There are quite a few screening questionnaires designed to follow children from infancy to school start, but just two questionnaires cover both the 0-6 age range and have been translated into more than 60 different languages.
Therefore, we selected the ASQ and ASQ:SE questionnaires to analyze the use of screening tools across the United States and Scandinavia. The ASQ and ASQ:SE are designed to be easily implemented in practice and increase the chance of identifying children with risk factors.
The United States and Scandinavia use the same two screening tools in different ways. Our literature review highlighted that, in the United States, the screening tools have been used extensively in clinical settings, while in Scandinavia, the screening tools have mostly been used for research purposes.
In other words, in the United States, screening tools have become part of the everyday workday of pediatricians, family practitioners and nurses, while in Scandinavia, they are primarily used to track the outcomes of a cohort of children who were exposed to a certain intervention.
It is not that Scandinavian practitioners do not use screening tools at all for clinical reasons. For example, health nurses often employ screening tools that have a limited focus during the child's first year – for example, the Alarm Baby Distress Scale (ADBB), which has to be directly administered by a specially trained nurse.
The screening tool used varies from municipality to municipality and country and to country. But overall, the Scandinavian countries rarely carry out language screening before the child is 2.5-3 years old. And that is too late, if you want to identify developmental and behavioral problems early.
The United States and Scandinavia can learn from each other
The United States should learn from Scandinavia. A 2017 Norwegian study has shown that when mothers have post-partum depressive symptoms, it is relevant that their children (two years or younger) are assessed with a social-emotional screening tool such as ASQ:SE.
However, social-emotional screening for children two years or younger is rare in the United States. In Denmark, it is now more typical for a nurse to directly test infants' social behavior with the ADBB from 4 to 6 months.
But American doctors and nurses have chosen not to use this method. For various reasons, the ADBB was not included in the United States' Compendium of Screening Measures for Young Children.
I have tried on several occasions to convince the Danish Health Authority and Social Ministry that Danish children and Danish society would likely benefit from introducing a new system for identifying which young children need more intensive help at an early age.
In Scandinavia, parents must also be placed at the center of the screening process. The ASQ and ASQ:SE have been designed and proven to do just that.
Parents (not a nurse and not a doctor) should generally be expected to answer the clear and well-researched questions about their child's developmental milestones and behaviors. The ASQ and ASQ: SE are now used in the US, United Kingdom, parts of Norway, the Västerbotten area of Sweden and numerous other countries.
I hope that the Danish Health Authority and Social Ministry will reconsider whether the ASQ and ASQ:SE may not also be beneficial for Danish children.
Nina Madsen Sjö was a noteworthy co-author to the article 'Comparative use of the Ages and Stages Questionnaires in the USA and Scandinavia: a systematic review', which this article is based upon.
Read this article in Danish at Videnskab.dk's Forskerzonen.
——
References:
Kevin P. Mark's profile (ResearchGate)
'Comparative use of the Ages and Stages Questionnaires in the USA and Scandinavia: a systematic review'
'Developmental Screening in Your Community'
'Investing Early. Taking Stock of Outcomes and Economic Returns from Early Childhood Programs'
'Trends in Pediatricians' Developmental Screening: 2002–2016'
'Parent satisfaction before and after implementing of a developmental screening tool in nine well‐baby clinics in Norway'
'Promoting Optimal Development: Identifying Infants and Young Children With Developmental Disorders Through Developmental Surveillance and Screening'
'The Impact of Perinatal Depression on Children's Social-Emotional Development: A Longitudinal Study'