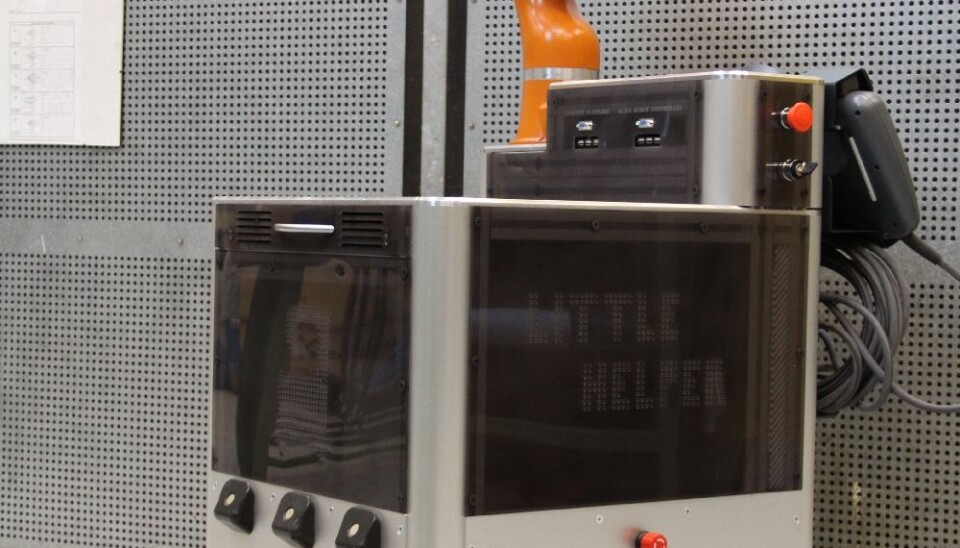 iPad runs quick and flexible robot
Engineering students from Aalborg University have made a handy high-tech robot interactive, so it can be controlled by anyone using an iPad or pressing on the robot.
Tomorrow's industrial companies will not only employ people but also small robots that will dash about and help where human bodies and brains cannot do the tasks.
The small high-technological assistants will ensure smoother production flows and carry out their tasks quickly and effectively, so products reach he markets on time.
This brave new world is coming soon because such a robot – 'Little Helper ++' – is actually being developed at Aalborg University in Denmark.
Over several years, a number of PhD and master's degree students have devoted their degree project work to building the small robot from basics and developing it so it has become quicker, more flexible and more user-friendly.
It should be possible for employees to instruct or program the robot easily and quickly, so it can carry out new tasks as required without the production line being completely restructured.
Mikkel Hvilshøj
"We have developed a complicated software system that makes it easy to program the robot and operate it through directly touching it or by using an iPad," says Christian Carøe, who developed the software together with Mikkel Hvilshøj and Casper Schou during their project year in their engineering degree course in manufacturing technology.
"This system makes someone with no knowledge of robots able to teach the robot how to carry out new tasks," he adds.
Robots must be ready for change
The first 'Little Helper' was developed by a group of Aalborg University students in 2007. The idea was that it should just have been a limited project – but interest in the robot grew. 'Little Helper' acted as a magnet, drawing in curious students who wanted to play with new and advanced robot technology.
The robot's potential is large – so large that the EU has chosen to take the development of the 'Little Helper' under its wings and had made it part of the European robot project TAPAS, where the vision spreads far beyond Denmark's borders.
A second and a third generation have now replaced the original 'Little Helper'.
The latest version is called 'Little Helper ++'.
Not only is it part of the three students' project work, it is also an important part of the EU's TAPAS project.
Throughout Europe, industries face challenges. Consumers expect to get products with many different features that can be tailored to their own personal needs. They also frequently replace an existing product with a new one.
This has made a product's lifetime much shorter, and that makes great demands on businesses to launch new products. This means that businesses must be very flexible and need to quickly adapt their production lines to new situations.
This is where 'Little Helper ++' comes into the picture.
An aid, not a replacement
Danish industries typically use traditional robots, which are designed to carry out fixed tasks independently of the human staff, and they are therefore usually screened off. But this makes changing the production process to make new products difficult.
"The TAPAS vision is to develop a mobile robot that can form part of a flexible production resource pool to aid the human staff. 'Little Helper ++' is our suggestion for such a robot – a robot that must not be regarded as a replacement for the human staff, but as an assistant," says Hvilshøj.
"It should be possible for employees to instruct or program the robot easily and quickly, so it can carry out new tasks as required without the production line being completely restructured."
The new 'Little Helper' is designed to be user-friendly and quick to learn. It can also form part of many different teams as the students have built in many advanced features.
Little Helper can turn and bend
As well as being able to feel its way with the aid of special sensors in all of its joints, the robot can turn, rotate and bend around seven different axes – one axis more than is usual for traditional robots.
This sounds wonderful on paper – and it works wonderfully well in reality too.
The robot has successfully carried out two manual tasks that are typical for the Danish pump maker Grundfos, but which were conducted in a copied environment at Aalborg University:
Assembling rotor parts for the deep-water pump SQFlex
Assembling the rotor core and axle for the deep-water pump SQFlex
The next challenge facing the robot will be to carry out the same tasks at Grundfos in October as part of the TAPAS project.
'New' software is thoroughly recycled
The software for 'Little Helper ++' is based on the Robot Operation System, open source software that comprises software codes derived from other robot systems.
"The intention is to give the robot so many skills that it can be used to carry out a wide range of different tasks," says Schou.
"These skills are vital for the robot's intuitive interface, as they make it possible to prepare blocks of software that users can easily compile and adapt to meet specific needs."
While most traditional robots are heavyweights, tipping the scales at over 50 kg, the robot arm on 'Little Helper ++' weighs just 14 kg.
-------------------------------
Read this article in Danish at videnskab.dk
Translated by: Michael de Laine
Scientific links
External links
Related content