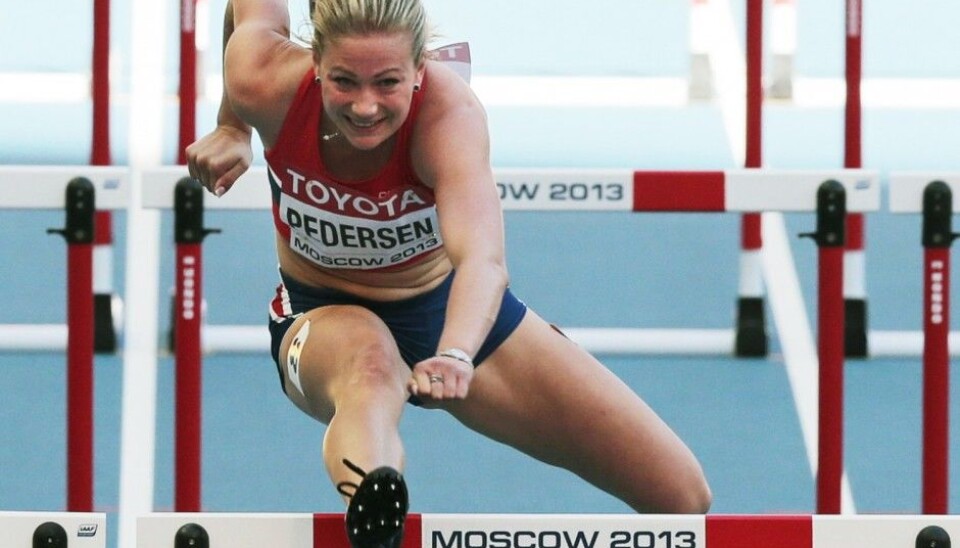 Your period makes you train more effectively
Women can build more muscle if they engage in intensive strength training early in their menstrual cycle, according to a Swedish study.
"I had my period and had been using painkillers the last two days. You can't run fast when you feel like you're being stabbed in the belly," said the Norwegian athlete Isabelle Pedersen to the newspaper Aftenposten in 2013.
The hurdler was suffering strong menstrual cramps and failed to qualify for the next round during the World Championships in Athletics in Moscow.
"My body was totally working against me," she told the Norwegian Broadcasting Corporation.
Pedersen felt what the Swedish researcher Lisbeth Wikström-Frisén discovered in her doctoral thesis at Umeå University's Faculty of Medicine. Women's menstrual cycles can have an impact on their athletic performances.
But her research found that exercising during a menstrual period is not necessarily a disadvantage. On the contrary; women build up muscle most effectively during the start of their menstrual cycle.
Jumping higher
The researcher at Umeå University divided 59 women into three random groups. The women were very fit and aged 18 to 35.
Two of the groups engaged in high-frequency leg resistance training, five days a week for four months. A control group performed regular leg resistance training three times per week for four months regardless of their menstrual cycles.
Among the two groups that trained five times a week, the first group trained harder in the first two weeks of their cycles, including during their periods. The second group trained equally hard, but did it in the second two weeks of their cycle.
The group that trained early in their cycles ended up performing clearly better than those who trained in the second two weeks.
Their legs grew stronger, gaining more muscle mass and they could jump higher than they could before.
The second experienced no such effects from their resistance training.
More muscle
The control group trained evenly and also got stronger and jumped higher. But they did not gain muscle mass.
The Swedish researcher concludes that this indicates if they want more leg muscle it is most effective for women to exercise and train hardest in this way during the first two weeks of their menstrual cycles.
Stacy Sims, the doctor who heads the USA Cycling Women's Track Endurance Program, has witnessed something similar.
She tells the website Health.com that some women actually gain more from intensive interval training during their periods.
Hormones involved
Anyone doing resistance – weights and weight machines – training should make sure they have a varied programme, for instance using several types of machines at a gym to avoid overtraining any muscle group. People should not train as hard all the time. So for women a good idea, according to Lisbeth Wikström-Frisén, it is a good idea to synchronise their harder training with their menstruations.
It is important to mention, however that she found no exercise-related negative consequences from any of the three types of training used in the study.
Wikström-Frisén attributes hormone variations to the more effective results from training early in a menstrual cycle. Other scientists before her have reached the same conclusion. Oestrogen seems to help improve muscle strength and women have more of it in their bodies in the two weeks before ovulation.
There seemed to be no differences in this experiment between women who used contraceptive pills and those who didn't. But these sub-groups were too small for a scientific comparison. It was actually hard to hang on to the women in the study through the entire four-month period. Many of them dropped out.
Little research on women's training
Some researchers claim little research is done on female athletes and sports women because of their menstruation periods.
According to the Norwegian Broadcasting Corporation, there are too many factors to deal with in studies of women's physical performances because their hormones and pain levels change during the course of the menstrual cycles.
Lisbeth Wikström-Frisén thinks the lack of knowledge in this area has made it hard for women to figure out what they should do to get the most out of their exercise and training.
"Currently, we don't know so much about how female sex hormones affect training and in training programmes no considerations are given to where they are in their menstrual cycles," she writes in her PhD thesis.
--------------------------------------
Read the Norwegian version of this article at forskning.no
Translated by: Glenn Ostling
Scientific links
External links